Two Columns
Introduction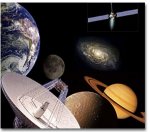 Discovery (NASA)
This website is designed to answer your questions about current and upcoming Announcements of Opportunity (AO) to propose a Discovery Mission and/or Mission of Opportunity. It will be updated regularly. Questions may also be addressed to the Discovery Program Scientist, Dr. Michael H. New, at Michael.H.New@nasa.gov.
The Discovery Program currently consists of Discovery Missions ( NEAR, Mars Pathfinder, Lunar Prospector, Stardust, Genesis, CONTOUR, MESSENGER, Deep Impact, Kepler, Dawn, GRAIL, and InSight), five Missions of Opportunity ( ASPERA-3, Moon Mineralogy Mapper, NExT, EPOXI, and Strofio), the Discovery Data Analysis Program, the Sample Return Laboratory Instruments and Data Analysis Program, and planning for future mission announcements of opportunity.
We welcome your input.

• January 5, 2017 .... NASA Selects Two Missions to Explore the Early Solar System. Press Release 17-003 has been posted on the "Announcements" page.

• September 30, 2015 .... NASA has announced the science investigations selected for Discovery 2014 (NASA Press Release 15-196).

• August 21, 2015 .... The Discovery 2014 Evaluation Plan has been posted to Proposal Evaluation Plan.

• June 4, 2015 .... The target for the announcement of Step 1 Selections is now September 2015. See the "AO Schedule" page for associated updates.

• January 16, 2015 .... Discovery 2014 Announcement of Opportunity Amendment 1 has been released. Community announcement has been posted on the "Announcements" page.


+
News Archive